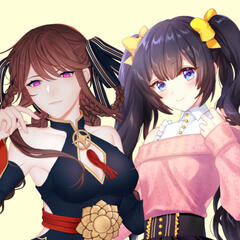 artists: @emirichu @Hikopup @nintorun20
Leanna & Jenn's Mix Comms
---
HOME
Hello there! Thank you for showing interest in our mix/harm/adlib comms! We aim to provide high quality mixes for an afforable price range. For any questions regarding our services, please don't hesitate to contact us!
PRICES
| Type | Tune+Time | Full Mix | Artificial Harms |
| --- | --- | --- | --- |
| Solo | $30 | $45 | $5 (+$3/track) |
| Duet | $35 | $50 | $5 (+$3/track) |
| Trio | $40 | $55 | $5 (+$3/track) |
| Chorus (4+) | $50 (+$10/person) | $65 (+$10/person) | $5 (+$3/track) |
- Commissioners are welcome to pay 50% before I begin and then the other 50% after I complete their commission. Otherwise, 100% of the price upfront is prefered.- Each package will include 6 max tracks per person- We do not charge for overlap tracks! :D Extra tracks however are +$4- Payments are in USD- Since effects and their difficulty can vary, please just contact me for a quota- If lines are already tuned and timed the mix/master price is minus the tune/time price- TV SIZE IS 40% off- Anything over 6 minutes will cost an additional $4 per minute
---
| Type | Harm Pack | Adlib Pack | Harm+Adlib Pack |
| --- | --- | --- | --- |
| TV Sized | $8 | $12 | Harm + Adlib price - 20% discount |
| Full Sized | $16 | $20+ | Harm + Adlib price - 20% discount |
- Harm packs include a max of 3 tracks. Each extra track is +$2- Adlib packs include an unlimited amount of tracks.- For the more complex songs that require many complicated layers of harmonies and/or adlibs, please DM me so we can negotiate a fair price!- I can either make everything entirely by my own interpretation or you can give me a script or notes for what you generally want (style/intensity)!- No need to credit me for harmony guides but please credit me for adlibs!
CONTACT
FOR ANY MIXING INQUIRIES
Email: [email protected]
Twitter: @leannaasama
Discord: Leanna#9669FOR ANY HARM/ADLIB INQUIRIES
Email: [email protected]
Twitter: @jennacraa
Discord: Jenn#0472
GUIDELINES
- Payments must be done through Paypal (worldwide)- Please have NO OVERLAPPING LINES - as previously stated if you must add an extra track because there is a section that overlaps it will come with no additional cost~!- Please do not sing too close or too far away from your mic- Lines must be labelled clearly- Send files in .wav format and within a .zip or .rar- Commission will finish approximately within the chosen deadline however, please be reasonable, choruses will take longer. Tight deadlines may require extra charge however this will be negotiated.- Remember that I am a mixer, not a miracle worker. The outcome of the mix is also determined by the quality of your lines/mic quality.- We have the right to reject a commission we are not comfortable with- Generally, we're quite understanding and flexible with anything so if you have any questions please don't hesitate to ask us!
ORDER FORM AND CREDITING
To commission us, just send me a dm through twitter or email with the following information:Name/Alias:
Twitter/contact: (wherever you are most active)
Type of commission: (solo, duet, etc)
Line folder: (Please include ON/OFF vocal)
Deadline: (Tight deadline may require extra charge)
Notes for mixer: (any pitch change ? artificial harmos ? effects ?)
Email: (your paypal email)When uploading please credit us exactly as:Mix/Master: Leanna (https://goo.gl/FWwUY7) @leannaasama and
Tune/Time or Adlibs created by: Jennacraa (https://bit.ly/3coL1t0) @jennacraa